Cummins > Wicked Wheels > Wicked Wheel 12V Cummins, 1994*-1998 HX35 Stock Turbo
Wicked Wheel® 2 for the 1994*-1998 12V Cummins stock turbo
Wicked Wheel 12V Cummins, 1994*-1998 HX35 Stock Turbo

Model: ssd-WW3595D

$269.99

United States and Canada

- All Deliveries to the United States and Canada will be made by UPS. You will be quoted the shipping cost and presented with delivery options at the time of checkout. See our

shipping calculator

for more information.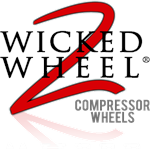 Wicked Wheel® 2 for the 1994*-1998 12V Cummins stock turbo

CALIFORNIA EMISSION TURBOS ARE DIFFERENT - TURBO NUMBER 3538416 - PLEASE MAKE SURE BEFORE YOU ORDER.


*WILL NOT WORK ON 1994 12v AUTOMATIC TRANSMISSION TURBO - TURBO NUMBER 3533320

Other applications:
1994 Dodge 2500 Cummins Manual Transmission - OE turbo number 3534333

Greatly improves throttle response
Increased Horsepower
Lower EGTs
Easy installation - no modifications needed
Increased boost




Important tips:


Holset turbos use two different style nuts holding the wheel on.
• If it is a 6 point nut, then tighten to 133 in/lbs.
• If it is a 12 point nut, then tighten to 124 in/lbs.

It is a left hand thread (reverse thread), meaning you turn the nut to the right to loosen.